Launching for Introverts
$39.00
News flash: being an introvert is not something you need to fix. In this video class + PDF guide, we're going to talk about how being an introvert can help you confidently plan + execute a profitable AND meaningful launch for your business. Includes 2-hour video workshop; case studies of my own personal launches; planner, calendar + checklist for your own launch planning; and an in-depth look at specific launch strategies for all 8 introvert personality types.
In high school, I was voted "Most Quiet"
... and I was super mad about it. It's an introvert's worst nightmare, right?! Being called out in front of 500 classmates as being TOO shy. Talk about irony.
Then, as an adult starting an online business, I started getting noticed online, and these labels crept back in. You're too quiet. You're too shy. You're not cut out for this. But instead of these labels holding me back, I realized I had a lot of other great qualities to bring to the table, and I could market my brand on my own terms. I didn't need to be pushy or shout my name from the rooftops to get noticed online. I could share about my work in my own quiet way, and still make ripples in my industry.
If this sounds familiar, I think you'll love this mini-class.
I'll show you how being an introvert can help you confidently
plan + execute a profitable AND meaningful launch for your business.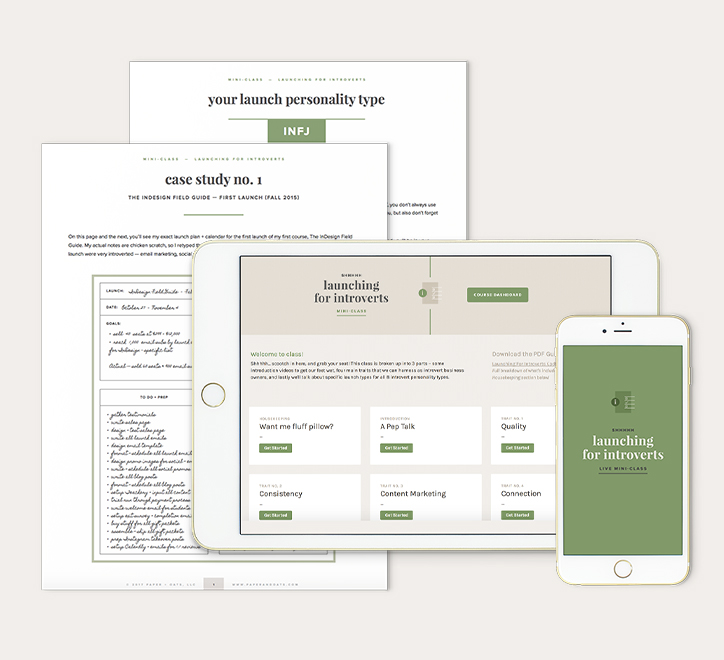 What's included in the class?
• 2 hours of teaching, broken up into 7 videos
• 18-page PDF guide that includes these additional resources:
• 2 complete case studies from my personal course launches
• launch planner, timeline + checklist for your own launches
• launch strategies + advice for all 8 introvert personality types
• lifetime access to all videos + PDFs + future updates
Ready to be proud (gasp!) of your introversion,
and use it to your advantage? Let's get to it.
Here's what a few students had to say:
I just have to let you know that the workshop today was, not one of the best, but THE best workshop that I have ever listened to. It was SO useful to get a billion tips on what strengths I can play on as an introvert, and how to move forward with my launches and my business! I think this class was truly unique and totally worth at least double the fee!
–Susanna T.
It was so affirming to hear that being an introvert isn't something you have to overcome, that these traits are strengths in business. So enlightening + encouraging! It was super helpful, Kelsey, thank you so much!
–Ashley D.
My biggest takeaway is knowing that I am prone to burnout, and need better support around me to not give up on perfectly good ideas. This class was super helpful!
–Lauren C.
Loved hearing this whole other side of launching. So helpful. Thanks so much, Kelsey!
–Kelly B.
I finally managed to block out some time to do your course and I LOVE it. Super super helpful. I finally feel like I'm on the right track so THANK YOU.
–Michelle W.
Questions?
How does a mini-class work?
It's like a tiny, baby online course! It is a complete digital learning experience. Immediately after you purchase this class, you'll be sent an email with details on how to login to a members-only website where you'll be able to access the entire class. This allows you to work through each lesson at your own pace. All lesson materials are delivered via video tutorials and PDF downloads, all of which are housed in that members-only website. Nothing physical will be shipped to you, and no in-person events will be included.
How long does it take?
You'll have immediate access to every single lesson as soon as you purchase this class, so you can work through everything at your own pace. Total video running time is 2 hours, so you can easily finish the whole class in a day! You'll have lifetime access to all the content, so you can refer back to all the class videos + PDFs as much as you need.
What if I hate it?
Full online courses can be an investment, so that's why I created this smaller class with a lower price tag, and I'm pretty confident you won't hate it :) But if you decide within 48 hours of purchasing this class that you're not loving it and not finding it useful, shoot me an email and I'll refund every penny. I want it to teach you something, not collect dust on your computer, so that's why I keep this refund window short.
Can I ask you something else?
Yes! Ask away — send an email to kelsey@paperandoats.com and I'll respond as soon as I can.